This Weekend
We have a whole weekend of fun things planned starting this Friday!
Friday & Saturday, April 28-29
Vijay Trunk Show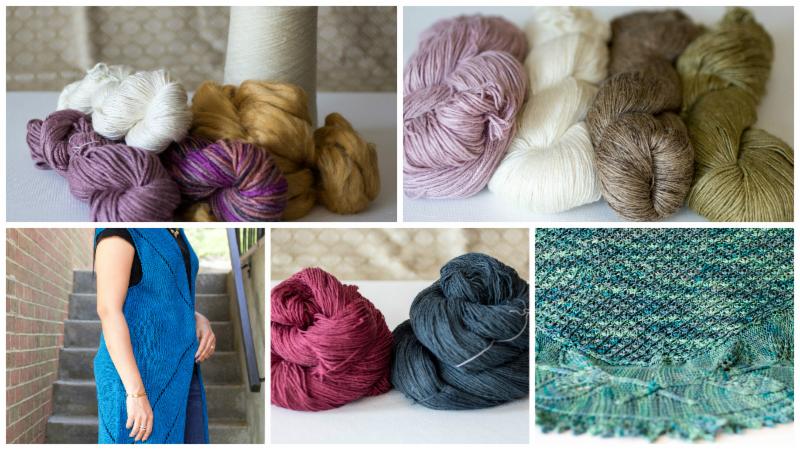 Staring at 3pm on Friday we will have amazing silk yarns and some refreshments for the Vijay Fibers Trunk Show! The owner, Betty Shah will be here to meet people and talk about the yarn. Can't make it on Friday?? Don't worry, we will have the yarns here on Saturday all day as well. And while you're picking out some fabulous yarns be sure to sign up for our Shirley Paden class on Sunday!
2-5
O'Kelly's Chapel Shawl Class with designer Shirley Paden
Shirley Paden designed this stunning shawl for the Spring 2014 issue of Interweave Knits so we're thrilled to have her here to teach a class on it!
This class will begin with a basic review of the Shetland double-sided Antique Garter Stitch Lace structure used as the main pattern of this shawl.Students will then read the lace chart and practice knitting the sections where close attention to the stitch pattern structure must be paid.Since the shawl is made in 2 halves and grafted in the center, they will practice grafting on the Garter Stitch Pattern structure.The class will end with an examination of the structure of the scalloped edging.
Working Materials to Bring to Class:
1464 yards of Vijay Fibers yarn in a DK weight(there will be plenty to choose from in the trunk show) US6 and US7 needles, markers, scissors, row counter, etc. 
A firm knowledge of knitting and an understanding of reading a chart.
Cost: $75
 You can sign up for this class when you purchase your yarn during the trunk show!

We hope you're able to join us this weekend!